NATIONAL GEOGRAPHIC MAGAZINE SUBSCRIPTION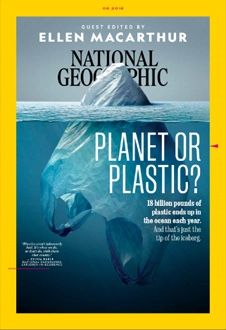 12 issues per year
£5.99 per issue in the shops
Every month you'll get expertly written articles and features on geography, wildlife, popular science, history, culture, the environment and current events. National Geographic covers every corner of the globe, explores the farthest reaches of the universe and probes the unexplored depths of the ocean. National Geographic brings a truly insightful and thought-provoking look at the world around us. It is, perhaps, the world's most renowned source of stunning photography, captivating infographics and original illustrations.

To celebrate this spirit of exploration, we invite you to join us & subscribe at a significantly reduced rate.
Subscribe to the digital issue and start reading today on our apps for a range of mobile devices.
In 2018 every UK print issue has Exclusive Guest Editor content and with every print subscription is FREE delivery of the magazine. Subscribe today.
WHY SUBSCRIBE?
Award winning photography and writing.
100% guarantee of your satisfaction.
Financially supporting National Geographic's mission to increase global understanding and promote conservation of our planet
Free access to National Geographic's archives dating back to 1888
---
THE PERFECT GIFT FOR FAMILY AND FRIENDS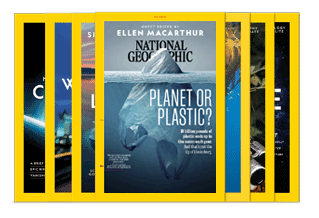 Treat someone special to 12 months of unforgettable adventure, excitement and discovery from every corner of the globe. There is a unique pleasure in giving a National Geographic subscription as your thoughtfulness is expressed not just once, but all year long.
GIFT 12 ISSUES FOR £25
---
ABOUT THIS MAGAZINE
This is National Geographic's 130th Year. The first issue of National Geographic was published in 1888, just 9 months after the Society itself was founded. In January 1905, the text oriented look — closer in style to a scientific journal — gave way to a new exciting approach to journalism. Exclusive pictorial footage taken in Tibet in 1900-1901 by two brave Russian explorers transformed the way the publication looked and how it was perceived.

For the May 2018 issue, National Geographic will unveil a new look. We've used heavier paper on the cover and the pages feel more luxurious. Inside you'll find a brand new front section and more visually led features in new exciting formats and lengths. These are just some of the many changes introduced to bring you a better way to read the most compelling and visually stunning stories in the world. In its 130th year, this magazine is loved by intellectually curious people around the globe – so we took great care in updating it.

Subscribe today and start seeing the world through a new lens.